There's something hugely satisfying about watching an event you've discussed, planned and organised over several months taking shape. This week saw exactly that happening as we had the pleasure of taking down the Old Masters and replacing them with contemporary Northern art, ready for our next exhibition at Swinton Park in North Yorkshire.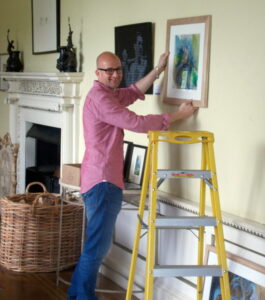 If you thought being a Director of a visual arts charity sounded like quite a swanky role, you should have a word with Emerson who, together with his parents, spent a day working within the constraints of a stately home to hang the exhibition in such a way that every artwork would be shown to its best advantage (I suppose he is still smiling in this photograph at least!).
With six contemporary artists exhibiting – Sarah Harris, Ed Kluz, James Naughton, Genevieve Pennington, Alan Stones and Emerson himself – all with very different styles and subject matter, the skill lay in ensuring the images worked well together and were all given equal weight, while also making the most of the unique surroundings.
What is particularly lovely about this year's show is that two of the artists who are exhibiting with us, came to our attention at the last New Light Prize Exhibition in 2013: Genevieve Pennington was shortlisted for the Valeria Sykes Award for her distinctive playing dice portraits, and Sarah Harris won the Curzon Exhibition Award for her silkscreen prints depicting local scenes.
You can see some of Sarah's below being prepared for hanging using Swinton Park's traditional picture chains.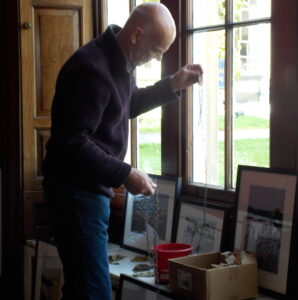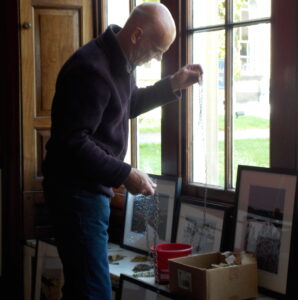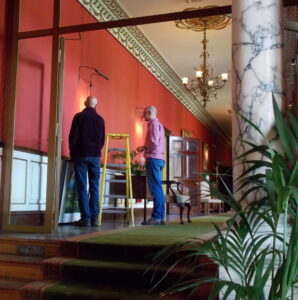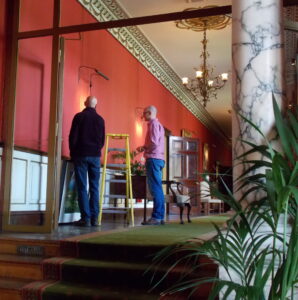 So the scene is now officially set for our Evening of Fine Art and Fine Music this Thursday, 18th June, from 6.30pm-9.00pm. If you'd like to join us and enjoy a glass of wine whilst browsing the artworks and listening to renowned opera singer, Ione Cumming, there is still time. Please just let us know at info@newlight.dev