Durham-born artist and printmaker Anja Percival has generously donated three of her etchings to the New Light Collection.
Award-winning artist Anja had a career in science working as a research assistant at the department of Developmental Biology at Bath University before deciding on a radical career change. She decided to re-train and got a degree in Fine Art from Falmouth College of Arts in 2002.
Following her degree, Anja took up a five month residency in Denmark and ended up staying there working in various printmaking workshops for five years. On returning to England, Anja was awarded 'Printmaker of the Year' at Printfest in Cumbria. In 2012 Anja held a solo exhibition in the Galilee Chapel of Durham Cathedral and some of her works were selected to hang in Millbank House, within the House of Lords.
Anja's piece 'Sun Light III" was short-listed for the 2015 New Light Prize Exhibition. She comments on her reasons for entering: "I was attracted by the 'skills-based' focus for the selected artworks, and the high calibre of work from other artists that were also applying. It was tempting to perhaps have the opportunity to see my artwork hung on the wall alongside many other artists that I have long admired."
The New Light Collection is a new initiative for the Yorkshire-based art charity New Light. The charity was established to promote and celebrate art and artists from the North of England and The New Light Collection showcases the talent and expertise from some of the North's best artists. The Collection will be offered free-of-charge to hospitals, schools and other community groups and will be offered at a cost to corporate sponsors who want to support the arts in the North of England.
Anja explains why she donated her pieces to the Collection: "New Light has done a great deal to support and promote my work, and so in turn I wanted to donate to a collection of artwork that will support and promote New Light. I think it's an excellent idea to loan the New Light Collection to public spaces, free of change, to make it possible for everyone to experience art from the region."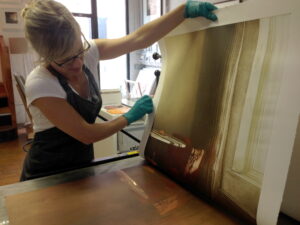 Anja at work in her studio
New Light Director and artist Emerson Mayes says: "The Collection is an exciting new venture for New Light and a way that we can help to make art accessible to everyone. By providing art free-of-charge to public spaces including prisons and schools, more people will be able to experience and enjoy the region's diverse artistic heritage."
The New Light Collection was established initially with donated works from prize-winners of the New Light Prize Exhibition. The Exhibition takes place every two years and is currently showing at The Mercer Gallery in Harrogate. Former prize-winners Josie Jenkins and Nat Quinn have also donated pieces to the Collection. In addition it features works from Norman Ackroyd CBE RA, one of Britain's most renowned printmakers and popular Yorkshire artist Tom Wood.
Featured image Interior Light VI by Anja Percival.