Making contemporary art more accessible to everyone has always been one of our aims, but it's often easier said than done (talk to any art gallery!) How do you engage new people without alienating those who already like what you do? How do you genuinely make art relevant to people from all walks of life?
After much discussion at New Light, we decided that one way was to engage young people before they'd had a chance to be 'put off' art or become aware of any perceived barriers to their enjoyment of it. To that end, we decided to hold an immersive art week at a school local to The Bowes Museum linking in with the current Prize Exhibition. Ingleton C of E Primary School was the chosen school and we were delighted when North East visual artist, Vicky Holbrough agreed to lead the week for us.
The brief was simple. Choose one of the artworks shortlisted for the exhibition at The Bowes and use it as a starting point to inspire the children, their parents and staff at the school, encouraging them to engage creatively with the paintings and prints in the show and with the museum more generally. In the end, Vicky selected Henna Asikainen's work: two monotone prints titled Icarus Series depicting feathers falling through the air.
During the week itself, the children were shown how to use a printing press and given sketchbooks to capture their ideas visually – something which can be overlooked in a curriculum focused on the written word. They were also taken to The Bowes to visit the Prize Exhibition and explore the museum's collections on the look-out for any other exhibits with a connection to Henna's artwork. Much to the children's delight, this included taxidermy birds. Over to Luke, one of the pupils:
"Accomplishing drawing the birds made me feel great because I didn't know how to do it, but I could! The birds I sketched were blackbird, buzzard, herring gull and common kingfisher. I sketched a barn owl and used it as a drypoint print. I also created some feather printings."
It only remained for Vicky to incorporate a selection of work from each class into a mixed media 'layered' piece which is now displayed at the school as a lasting testament to the children's artistic talents and what can be achieved when everyone works together in a creative environment. Or, in other words, as proof that art can be made accessible, fun and relevant for everyone, generating discussion and celebrating new skills.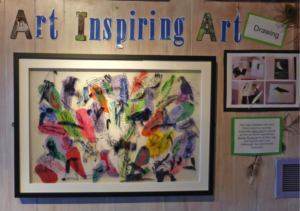 The piece on display at Ingleton School
While it's easy to talk about the success of the project from a New Light point of view, the final word should really be left to one of the children who took part:
"I thought Art Week was fantastic. The school pulled together and formed a brilliant week."
Feature image credited to Jason Hynes.