'How do we make the 2017 New Light Prize Exhibition better than the last one?' is a question that the team has been mulling over during the past few months. Whilst we learn A LOT every time the show takes place, we realised that we needed to get some honest feedback from the most important people involved in the Prize Exhibition – the artists who entered.
So we set up a 'no holds barred' survey. And we sent it to all artists who entered the 2015 Prize Exhibition. Because the views of the artists who didn't get short-listed in 2015 are as important to us as the ones who did.
We had a pretty good response rate. 79% of short-listed artists completed the survey with 21% of non-short-listed artists for 2015 taking the time to fill it in.
We asked questions about everything we could think of: How did you find out about the Exhibition? What made you want to enter? How helpful was the information and support provided? Was the entry cost appropriate? Would you enter again? Do you have any recommendations of venues where you'd like to see the Prize Exhibition exhibiting in the future? Plus many more!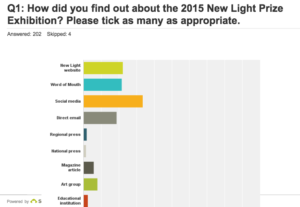 The responses were wide-ranging and some of them surprised us. We discovered that most people had heard about the Prize Exhibition through social media (this one was no surprise!) but around a quarter of entrants had heard about it from other people. This shows the power of Word of Mouth marketing.
We found out that the biggest attraction to entering was the opportunity for artists to show their work in a public gallery closely followed by the chance to exhibit their art in the venues selected for 2015.
We expected the question on entry fees to be controversial. We have written a blog about this previously which you can read here. But the responses surprised us. A total of 62% of artists said that they strongly agreed or agreed that the entry fee was appropriate with only 15% saying that they strongly disagreed or disagreed with the cost. (The rest neither agreed nor disagreed.)
We asked respondents if they knew about the other work that New Light does and the majority were aware of the New Light Collection, which is great as this will be launching later in the year.
We had some more constructive feedback including some teething issues with the new entry process (which we are looking to rectify for 2017) and a mention of why there are no high profile celebrities promoting New Light on our behalf (if you have any contacts who'd work with us on a voluntary basis, please send them our way!)
We also had a great many artists recommending venues for future exhibitions along with any contacts they had that may help us get an 'in' there.
Overall over half of the artists said that they would enter the Prize Exhibition again so we must be doing something right but that doesn't mean that we can't improve and your feedback will help us to do that. We want to thank all of the artists who took the time out of their busy schedules to help us to improve and here's to a bigger, better and bolder Prize Exhibition in 2017.
Featured image – credit Sam Toolsie.