Whalley-based artist Jo Taylor has won the Visitors' Choice Award on the London-leg of the New Light Prize Exhibition. Her work 'Phantom Heads' was selected for this renowned open exhibition and was shown at Panter & Hall, Pall Mall as part of its three venue tour.
The Visitors' Choice Award, sponsored by TIG, is selected at each venue where the Prize Exhibition is taking place and is chosen by visitors who select their favourite piece on display.
Lancashire-based artist Jo, who specialises in animal paintings and uses a mix of watercolour, gouache and collage to build up her work, has also generously donated one of her pieces 'Eye of the Storm' to the growing New Light Collection.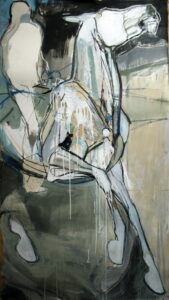 Eye of the Storm
Jo has exhibited widely throughout the UK, America and more recently in Dubai. She has shown her work at The Royal Academy of Art, London; The Victoria Gallery and Museum, Liverpool and her work is included in many notable private collections.
Jo explains her dedication to drawing the equestrian and animal form: "A recurring theme in my work is the exploration of the ancient relationship between horse, man and the land, and its ability to nurture the soul. The origin of 'Eye of the Storm' is the northern training centre, Middleham where I have spent many wild, wet, dark early mornings watching work riders and horses battle with the elements. It also echoes my experience of riding racehorses – the exhilarating feeling of being on a horse which is ready to explode into action; quivering, alert and strong."
The New Light Collection is a new initiative for the Yorkshire-based art charity New Light. The charity was established to promote and celebrate art and artists from the North of England and The New Light Collection showcases the talent and expertise from some of the North's best artists. The Collection will be offered free-of-charge to hospitals, schools and other community groups and will be offered at a cost to corporate sponsors who want to support the arts in the North of England.
New Light Director and artist Emerson Mayes says: "The Collection is an exciting new venture for New Light and a way that we can help to make art accessible to everyone. By providing art free-of-charge to public spaces including prisons and schools, more people will be able to experience and enjoy the region's diverse artistic heritage."
Featured image: Phantom Heads