New Light prize-winner Anna Poulton whose piece 'Figs' won the Swinton Foundation Prize at the 2015 New Light Prize Exhibition, is showcasing an exhibition at Swinton Park in North Yorkshire. The exhibition is on show from 9 April to 3 June and will feature Anna's mixed media drawings which lean towards abstraction whilst investigating the shapes and structures found in nature.
Born in Yorkshire, Anna gained a Fine Arts degree at Bretton Hall College before completing a four-year apprenticeship in antique restoration. In 2001 she set up a successful business making bespoke furniture and restoring antiques. Anna currently runs art workshops for children and adults.
The Swinton Foundation Prize is sponsored by Swinton Park and is awarded to an artist at the outset of their artistic career. New Light recognises that one of the most challenging times for an artist is when they are trying to establish themselves professionally. The winner of the prize is offered practical help in the form of mentoring from an established artist, professional advice and the chance to exhibit work.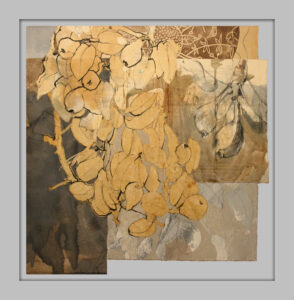 Pears by Anna Poulton
As part of Anna's prize she has been paired with art consultant and curator Lynne Green, who will share with her a wealth of experience of the art world. Anna says of the opportunity: "I chose Lynne Green as my mentor because I greatly admire her beautiful art books which explore creative imagination as expressed through the visual arts. I'm excited to start working with Lynne and hope we can develop my career and professional identity as an artist."
The Swinton Foundation is a charitable trust that supports artists, entrepreneurs and communities in the Yorkshire Dales and surrounding area, helping regenerate the rural landscape and, with the Swinton Estate, providing a base as a catalyst for further enterprise and development. Current initiatives include supporting New Light with the Swinton Foundation Prize, which each year offers the winner their own exhibition at Swinton Park in the new bar exhibition gallery space. For further information please visit www.swintonpark.com
Anna's work is on show at Swinton Park (near Masham) until 3 June 2016.