New Light shortlisted artist Brian Gallagher, who was born in Newcastle and brought up in Harrogate before moving to Dublin, has won a prestigious prize at the World Illustration Awards 2016. Organised by the Association of Illustrators and the Directory of Illustration, they received a total of 2200 applications from 66 countries.
Brian's piece, which was commissioned for Cromford Mills and Derwent Valley Mills World Heritage Site, won the 'Public Realm – Professional' award. It depicts a global aspect of the 18th Century cotton trade. Enlarged from the original scraperboard to be an over life-sized mural in the museum, the piece shows three international phases including slaves on a plantation in America picking the raw cotton; mill workers in England spinning the thread; and Indian weavers at their looms making the cloth.
Brian has enjoyed a successful career as a professional illustrator and fine artist. He was drawn to using linocut and then scraperboard through the tutoring of wood engraver Peter Reddick whilst studying at Bristol Polytechnic. His work has appeared in all areas of design and his clients include Harper Collins, Oxford University Press and Random House.
He was short-listed for the 2015/16 New Light Prize Exhibition with two pieces including his work 'Out the Back'. New Light promotes Northern art and Northern artists primarily through its biennial Prize Exhibition.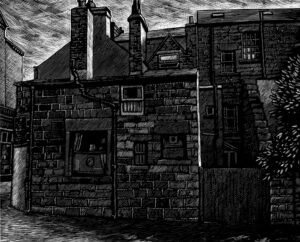 Out the Back
Brian says of entering the awards: "Entering art awards and open submissions has been important to me over the years. It gives you something to aim towards and spurs you on to improve on  your craft. The exposure gained is a massive boost, as it puts your artwork out  in front of a whole new audience. I'm thrilled and very grateful to have won this World Illustration Award and also to have been part of the New Light Exhibition."
The Illustration Awards 2016 Exhibition is showing at Somerset House, London until 29 August 2016 before it travels across the UK.