We're already the proud possessors of a Tom Wood Self Portrait in the New Light Collection, so it was real treat recently to visit his Retrospective at Huddersfield Art Gallery, followed by a Get Together at his studio in Batley.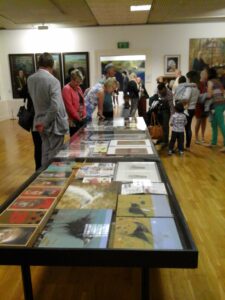 As we walked around the exhibition, we did spare a thought for the people who, first of all, had to track down his artwork – no easy task when so many paintings have been through so many hands over the years –  and then negotiate with both private and corporate collectors for their loan. Their hard work has well and truly paid off however, with a selection of artwork spanning – and illustrating – the many facets of Tom's world-renown career.
The Exhibition is on now until the end of August and is well worth a visit. It's a great venue, too – remember to give yourself sufficient time to see their L.S. Lowry, Francis Bacon and Henry Moore.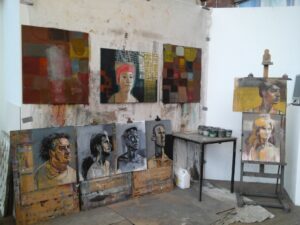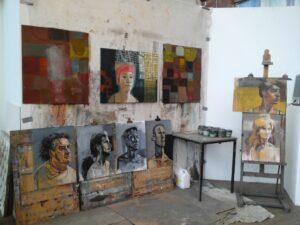 Afterwards we visited Tom's studio at the Redbrick Mill in Batley. A great chance to see Tom's work 'in situ' while enjoying some excellent homemade cakes (thank you Elaine!).
We also had an interesting discussion with Tom about the value of skills-based learning and how the acquisition of traditional techniques – such as drawing skills – stand an artist in good stead throughout their career, but how they're so often undervalued nowadays.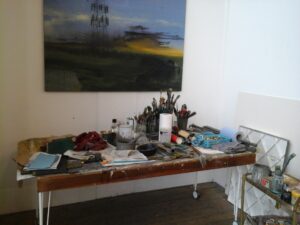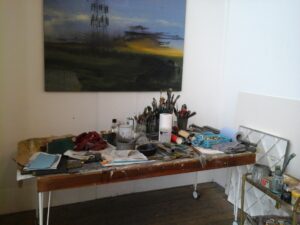 We used to refer to 'skills-based' art as the type of work we were looking for in the Prize Exhibition, but recently dropped the term, as we weren't too sure people would understand or agree with the definition. We were also concerned that abstract artists might feel excluded which is certainly not the case.
Talking to Tom raised the question of whether we'd been too hasty and whether we should actually make more of the fact that we support 'skills-based' artists at a time when they potentially need it most?