Now that the Prize Exhibition has had all its loose-ends tied and tidied we can catch up with Gavin Watson – winner of The Inter Group's  Visitors' Choice Award at Tullie House Museum and Art Gallery – and ask him a few questions.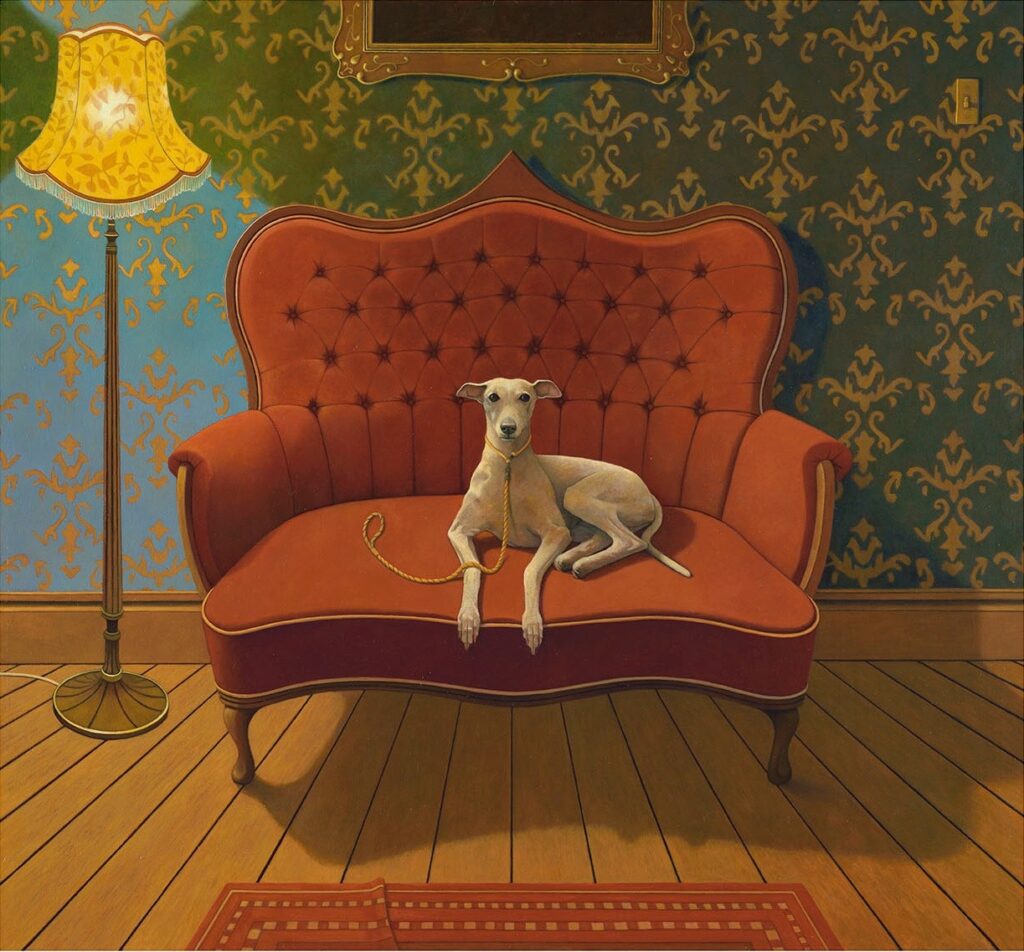 'Lucky Jim' by Gavin Watson
Describe your work in three words.
Playful, Layered & Narrative-rich.
Describe in three words what the 'North' means to you.
Playful, Layered & Narrative-rich.
What does winning the Visitors Choice Award mean to you.
It means such a lot to receive the Visitors Choice Award. I'm one of
those painters who can only work in relative solitude. I'm easily
distracted, so I'm constantly striving to keep the everyday
mundane stuff at arms length in a hope that ideas can breath,
develop and take shape. When complete strangers make
connections and decide to vote for one of my paintings it blows me
away, it's totally unexpected but what a wonderful thing.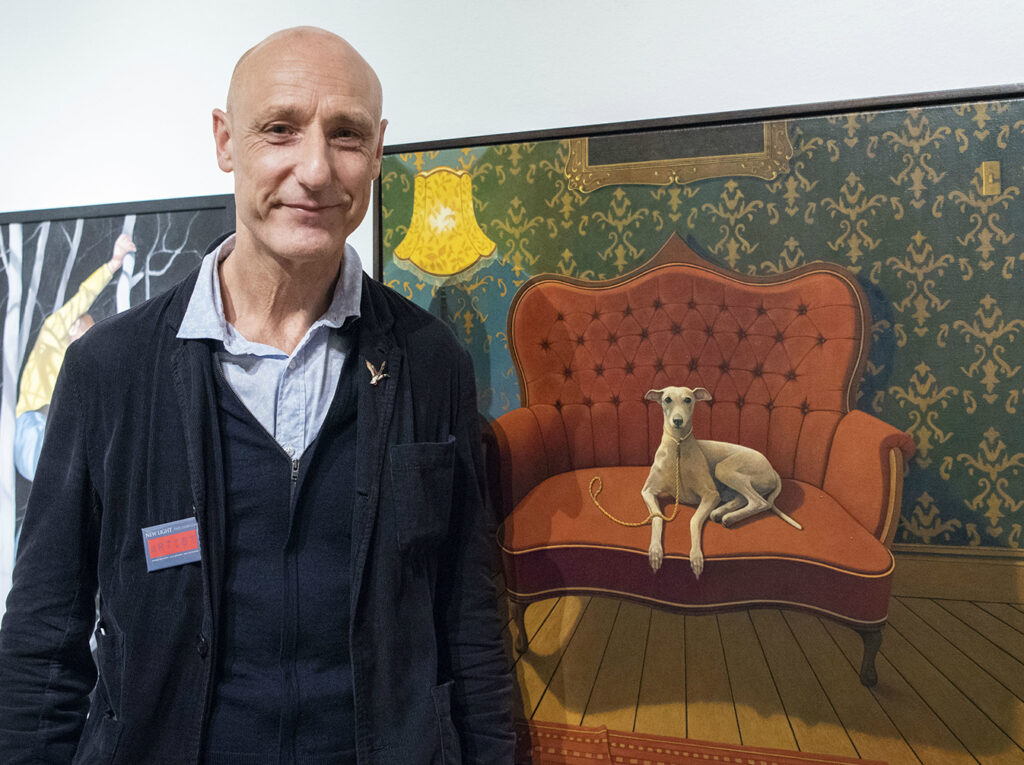 Gavin in front of his award-winning work – credit Toolsie Photography
What made you decide to enter the New Light Prize Exhibition.
In 2015 we had a family day out to the Yves St Laurent Exhibition at The Bowes
Museum. My step-daughter studied fashion and I had fond memories of days
out at The Bowes Museum as a child but hadn't visited in over thirty years.
The New Light Prize Exhibition was showing at the time and I was impressed by the quality
and range of work Exhibited. I also felt the exhibition had something important to say about living in the North of England, plus presented the work in such a wonderful and appropriate setting. I made a note in my sketch pad and decided to submit work to the next competition.
Which well-known painting do you wish you had painted.
The Crucifixion of St Peter by Caravaggio.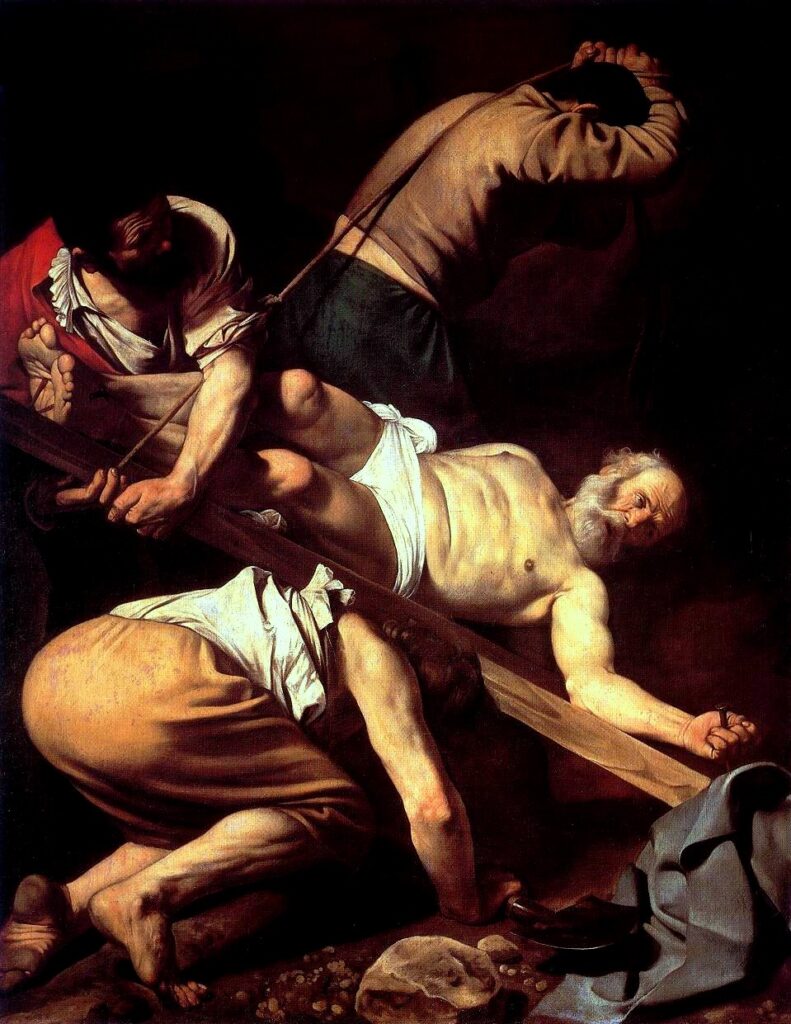 The Crucifixion of St Peter by Caravaggio – Cerasi Chapel, Rome.
This is a painting I never get tired of experiencing. It formed a huge
impression on me as a young aspiring artist and continues to influence and
educate me as I grow older. In 1987 I had just completed my degree in Fine
Art and was lucky enough to land three months painting at the British School
in Rome. On my first day I walked into the nearest church, dropped my ten
Lira coin into the slot and a light came on. I had never heard of Caravaggio…
he certainly wasn't mentioned at art school in the early 1980's. I don't even
think he was that popular in Italy at the time. There was no labels to say who
the artist was, so I had to investigate in the British School library. Context is
everything; since then, films have been made, books have been written and
Caravaggio's work is ranked amongst the greats. He also had an extraordinary
life!
My experience was a personal light that recognised a quiet drama in a
dark corner. I began to understand how a dynamic abstract composition could
move the viewers eye around a static image and the importance of a limited
palette. On reflection, this painting represents the beginning of my personal
development and continuing growth as a painter.
What are your artistic plans for the future.
I've recently started a series of paintings based around the relationships
between humans and animals. The working title for the series is 'Protect and
Survive'. I always begin with an overarching narrative and work on a number
of images at the same time. I think of the work as a collection of ideas about a
coherent and deeply realised world, with a clear thread linking the pictures
and subjects together thematically, rather than as one-off paintings. I've
recently returned from a field trip to Mexico, where I was looking at the
migration of birds, butterflies and humans. Hopefully they will be ready to
exhibit in 2020.
Featured image of Gavin Watson – credit Peter Donoghue